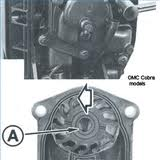 The outboard motor water pump pumps water from the lower unit to the top of the motor. This process keeps your engine cool during use. Sand, shells, mud, and other debris that get caught in your water pump can cause damage. If left unchecked, debris can do enough damage to warrant replacing. To replace an outboard motor water pump, use the following guidelines:
Instructions:
1. Remove the bolts on the lover unit using a wrench. The make of your outboard will determine what size wrench to use.
2. Take the trim tab off the bottom of the anti-cavitation plate.
3. Be careful when removing the last bolt as this will detach the lower unit from the motor. You don't want the unit to slide out uncontrollably!
4. Place the lower unit aside for now. The shift and motor shafts should now b exposed. Remove the shafts by applying pressure and sliding them out.
5. Remove the bolts from the plastic casing around the water pump. Lift the casing off.
6. Slide the pump impeller over the motor shaft and remove the steel plate along with the gasket the impeller was on.
7. Remove the steel cup and "o" ring out of the plastic casing (previously removed). Remove the key way from the motor shaft.
8. Lay the parts of your new water pump out neatly in your work space. Installation of the pump will take place exactly in reverse of the previous seven steps. Make sure to grease the tops of the motor and shift shafts, as well as grease and replace the bolts.
Since you're already working on your boat, make sure to check the oil level and top off with Evinrude xd 100 oil when necessary.