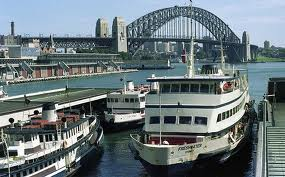 The hub of the famous Sydney Ferries is located in the Sydney Cove. Circular Quay, its headquarters, sits between the Sydney Harbour Bridge and the Sydney Opera House and the Sydney CBD skyline hovers in the background. The ferry's main route is to transport passengers from Sydney to the seaside town of Manly, Australia; however, the ferries do work to as a means of transportation to many other local destinations such as Balmain, Double Bay, Cockatoo Island and the Darling Harbour to name a few.
More than 14 million passengers are transported across the Sydney Harbour to the Parramatta River each year, according to the Sydney Ferries' travel logs. The ferries of the Sydney fleet encompass 28 vessels, which are all wheelchair accessible, equipped to travel an average of 1.3 million kilometers per year.
I can only imagine such a mighty fleet of ships would depend on the high-performance standards of Evinrude XD 100 oil to get the job done right!