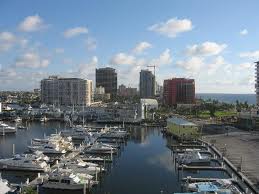 Often referred to as the "Venice of America," Fort Lauderdale, Florida encompasses the feel of a floating city with 165 miles of canals and waterways that twist and turn through the entire city. And, as part of the Sunshine State, this waterfront city provides weather that's friendly to boaters year-round.
Boating businesses thrive in Fort Lauderdale. In fact the annual revenue of marina and boating businesses combined for this area is around $5 billion.  This mega water city has even developed their own public transportation system (what most cities have in the form of a bus) that transports people across the city's many waterways. The scorecard (scale of 1-5) granted by Boating Magazine read as follows: Waterfront Availability 5; Ease for Boaters 4; Strong Boat-Related Business 5; Number of Good Boating Days 5.
It's no secret that Evinrude XD 50 oil is a must for the mighty boats of this maritime city.