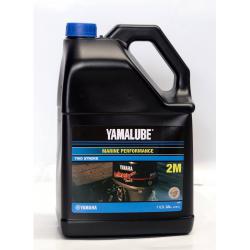 There may be a wide variety of outboard oil available in the market, but you don't want to use one that can do harm to your engine in the long run. The Yamaha outboard oil eliminates this worry by providing your outboard motor a smooth and long-lasting precision care and protection.
The Yamaha brand, known for its quality, reliability and dependability, did not slack in developing its liquid engine components. With it, the Yamaha outboard oil that might very well be your trusted partner when it comes to engine care. The Yamaha outboard oil is formulated with a premium blend that gives your engine the power to run in high performance. The oil guarantees superior lubrication of your engine and its many components. It minimizes smoke and protects your motor from rust that could overtime damage your outboard motor from constant exposure to damp environment, salt and or freshwater.
Your engine relies on outboard oil for lubrication, helping it to achieve great and long-lasting performance. Using quality oil, like the Yamaha outboard oil assures you that your engine is kept in tiptop shape, whether you're taking your boat out into the great deep blue for work or leisure with family and friends.