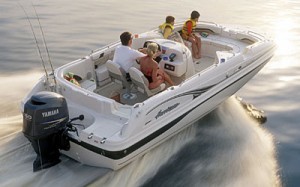 This past week, we've looked at virtually every facet of an annual outboard tune-up, from inspecting the propeller blades to scanning for oil leaks and replacing the fuel filter. In today's final installment of our five-part series, we'll finally get to enjoy the fruits of all that labor. In other words, it's time to hit the water. After adding wax to the cowling in order to protect from corrosion, you're all set to mount the outboard and take it to a lake or river.
Once the motor has been mounted, it's time to start the engine. Unfortunately, there are a few more checks to be performed before we can use the boat for recreational endeavors with any confidence. We've already replenished the motor with fresh outboard oil, but we have not yet checked the water pump. The flow of water near the rear of the engine should give us a good idea that the pump is functioning properly.
Allow the engine to idle for a few minutes while it warms up. Adjust the carburetor jet and twiddle the fuel-mix knob at the front of the motor. It should begin to idle smoothly. Then put it into gear and take a quick spin. This maintenance procedure should keep your outboard motor running smoothly and trouble-free for the remainder of the season.