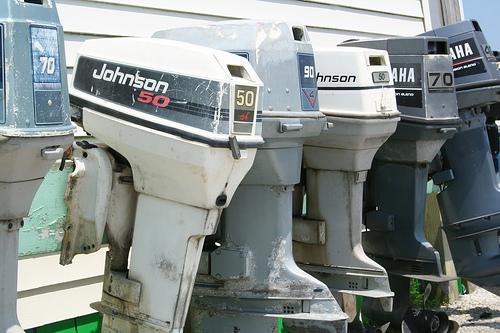 If you're new to the boating scene or have recently decided to buy your own boat, it's tempting to go for a "package deal." These are the small boats that come with outboard engines included, and they can be pricy. Used motors provide an alternative for thrifty shoppers – although you should always do your homework before buying and attaching one to your vessel.
In the outboard motor market, brand names mean a great deal. Yamaha, Evinrude and Mercury have come to be known for their reliability and generous warranties. It's always advisable to shop around for the motor that suits your budget as well as your practical boating needs. It goes without saying that you'll want to find a used motor with all of the relevant features – perhaps an electric start or a steering cable attachment.
Perhaps the most important consideration when comparing used outboards is the amount of wear and tear. Boat motors should be judged not by their age but by the number of hours they've been run. Just as you would most likely prefer a Corvette that's been parked in a garage for five years over one that's been driven hard for three, an engine that's seen less use will require less maintenance. In many cases, used motors are less efficient than new ones and therefore require plenty of lubrication with quality oils such as Yamalube. Just remember that it's possible to find a quality outboard on a budget.