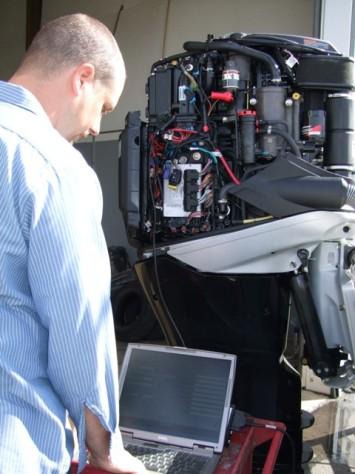 To continue our discussion about 2-cycle engine maintenance, let's investigate other potential problem areas. Boaters know that 2-stroke outboard motors hold a distinct advantage over 4-strokes because of their simple design. The piston only travels through the cylinder twice: up once and down once. Two-strokes feature only three moving parts – piston, crankshaft, connecting rod – which drastically limits the number of things that could go wrong during a pleasant day on the water.
If you're having trouble getting your engine started – or keeping it running for any period of time – check that the motor is well-lubricated with a quality 2-stroke oil such as Yamaha 2m oil. When the motor receives the proper mixture of oil and fuel, it emits tell-tale gray exhaust. Watch out for strange-colored emissions; black smoke implies that the fuel mixture needs to be adjusted.
Since the carburetor controls the leanness of your engine's fuel intake, it's worth checking out. If the incoming fuel is too lean, your engine will be under-lubricated and its life will be cut short. Check the air filter, as well, because you always want a steady flow of air to reach the engine components.