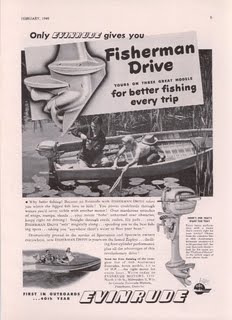 Innovation is almost always born out of necessity. History's great tinkerers and inventors used the limited knowledge at their disposal to solve modern problems. And we in turn reap the benefits of those breakthroughs. The work of boat engine mogul Ole Evinrude is a perfect example. One hundred years ago this month, Evinrude changed the American boating landscape by inventing what is now called the outboard motor.
In August of 1909, Ole Evinrude wasn't exactly a household name. He had distinguished himself as a machinist while employed for a number of machine tool companies in the Midwest, but he probably would have never dreamed of attaining fame in the boating world. On a fateful August day, Evinrude was enjoying a picnic with his girlfriend on a small island in the middle of a lake. The girl suddenly mentioned her hankering for ice cream, and Evinrude was eager to please. He rowed across the lake to an ice cream shop, bought the confection and turned back.
Before he reached the island, however, the ice cream had melted in the sun. This gave him an idea: Why not attach a motor that would propel his boat without the need for rowing? From there, Evinrude began to tinker until he came up with a workable model. He wouldn't approve an engine design unless it worked perfectly. This attitude has remained an integral part of the company a century later. The Evinrude brand has expanded to include a variety of specialized engines, tools, and high-quality 2-cycle oil such as Evinrude XD100 oil. There's no telling what innovations the next 100 years will bring.