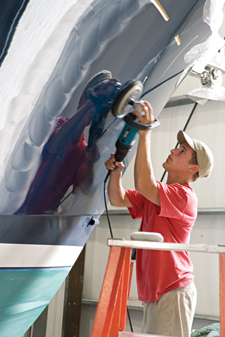 In most parts of America, small boat owners should expect to get a few more good months out of their vessels before it's time to look into winter storage options. And of course there are those who live in temperate climates where one can enjoy boating all year round. For those who need to close down shop for the winter, however, there are a number of crucial maintenance measures that need to be put into place.
Assuming that the boat's outboard motor has been kept in tip-top shape with Evinrude XD100 oil or some similar product, the following steps should be simple and painless. The first point to address is condensation that can build up in fuel lines during the winter. In order to prevent this from occurring, fill the gas tank completely and add a fuel stabilizer. Then start the motor and allow it to run for a few minutes so that the fuel and stabilizer can filter through the system.
Next, you'll need to apply fogging oil to the carburetor. Just before the boat is put into storage, spray the fogging oil into the cylinders. Take the opportunity to scour the housing and then apply anti-corrosion spray to the electrical wires and connections. Once this is done you can focus on traditional methods of cleaning – spraying your boat down and waxing the exterior if desired. Don't forget to disconnect the battery as well. If you don't recharge it every month or so during the winter you'll need a new battery by springtime.