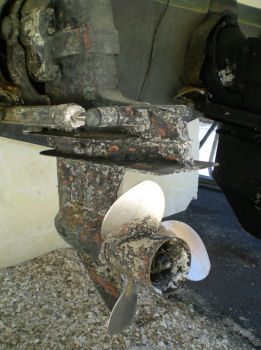 For those who make a habit of using their small boats in salt water, a unique problem begins to crop up. Although most quality outboard motors are built to run in any water conditions, they become susceptible to the effects of wind and weather over time. Even if your engine is initially protected by a few coats of primer and paint, the elements have a way of getting through. Despite your best efforts at keeping an engine running smooth with Yamaha 2m oil, there are other factors that also must be considered.
Now that summer is beginning to wind slowly to a close, it's a good time to check your outboard for outward appearances of wear. Saltwater corrosion starts as an aesthetic problem, but it can spiral into a mechanical one in no time. Take a close look at the paintwork, inspecting for blisters or bubbles. You might notice that some of these irregularities are solid, and others have burst to emit slight trails of whitish aluminum oxide.
In order to remedy this problem you'll need to remove the engine and place it on dry land. Using a degreasing agent, remove all traces of dirt. After it dries, take an electric drill and a heavy brush and eliminate any flaking paint, rust and salt deposits from the engine's surface. Fill in any dents or dings with putty, and then sand the result until it appears consistent. Finish by adding primer and final coats of paint.