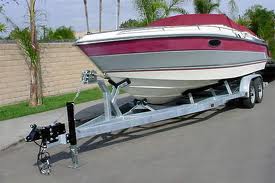 When you decide to trailer your boat take the time and do your research to find only certified trailers. The National Marine Manufacturer's Association maintains a trailer manufacturer's certification program to help ensure clean, safe transportation for your boat. This group helps maintain industry standards and certifies that all trailers bearing their marker meet all federal and most state safety regulations.
The areas certified by the NMMA are as follows:
• identification plates
• capacity ratings
• couplings, safety chains
• lighting, winches
• brakes
• registration procedures
• conspicuity systems
For Yamaha owners you can help ensure the best mobile boating experience by keeping a supply of Yamalube 2M oil on hand.