All of the other maintenance tips and advice that we offer up in this blog are superfluous if you can't even get your machine to start. There are myriad things that could be preventing your vehicle from starting, and here is a quick run through of some of the most common: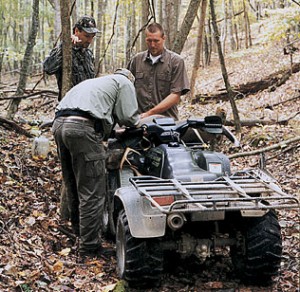 ~Air Filter: the ATV needs to bring in air to mix with the fuel and Yamalube oil, and if the filter is dirty, it impedes the process.
~Exhaust: the motor also needs to release air, so make sure that the exhaust pipe is clear.
~Spark: there are several reasons why the motor might not be generating a spark when your try to start it, including the spark plugs, wires, pulse generator and the reverse or ignition switches.
~Compression: worn cylinders, rings, valves and gaskets could be keeping the compression too low.
~Carburetor: the carburetor is a critical component to any engine, maintaining the ratio of fuel, oil and water; refer to last week's post for maintenance tips.