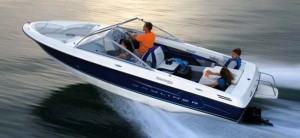 Many people are unhappy boat owners because they buy the wrong boat. Before you dive head first into the world of boat ownership, ask yourself a few questions that will help you focus on the kind of boat you will need:
~ Who will use the boat? Just family or will you invite friends? This may have a bearing on the size.
~ How will you use the boat? Will you be fishing, water skiing, cruising, taking day trips, weekend trips or week long excursions?
~ When, and how often, will the boat be used? Do you boat year-round or only seasonally?
~ Where will you operate the boat: in lakes, rivers or on the ocean?
~ How much can you afford to spend? Don't forget the initial cost of purchase is just the beginning. There will be insurance, registration fees, and instruction and safety course fees, as well as maintenance essentials, like Evinrude oil.
~ What type of boat suits your personality and temperament? Do you imagine getting from place to place with great speed or leisurely sailing to your destination?