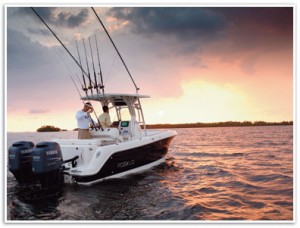 When it comes time to buy a new boat, the first thing you want to determine is what kind of activities prompted you to purchase a vessel in the first place. If you conclude that you seek a marine companion for freshwater fishing and other activities on the lake, then at least you've narrowed down your selection to freshwater fishing boats. Now, from here you will need to choose the best boat of this genre to meet your boating needs.
A safe pick would be the all-purpose fishing boat, which may be used in both saltwater and freshwater settings, because it's versatile in terms of fishing, entertainment and water sports. On the opposite end of this spectrum would be the bass fishing boat, which is often used for tournament fishing as it features powerful motors as well as an ample deck and storage room for two or three onboard anglers.
Both of these boats benefit from the clean power of Evinrude XD 100 oil; try some today!