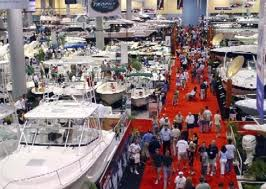 The Miami International Boat Show is a spectacular nautical event that happens once a year in the southern-most region of Florida, the sunshine state. This annual event usually takes place in February (it ran from Feb. 17-21 this year and is set to take place Feb. 16-20 for 2012) and extends for 4-5 days with multiple activities and events set out for each day.
Some highlights from this year's boat show include an appearance by Russell Newberry, the deck boss and star of the Discovery Channel's "Deadliest Catch." Guests were also invited to visit the Discover Boat Resource Center where you could get involved in an educational hands-on series that demonstrates how to train for on-the-water experiences. Plus, this year the convention debuted a new feature, the Dive & Travel Harbor, which allows guests to learn how to scuba dive and sample some of the best dive gear on the market. Check out MiamiBoatShow.com to learn more about next year's event.
I would expect that many boaters who attend this event trust in the power of Evinrude XD 100 oil.