Stand-Up and Sit-Down PWC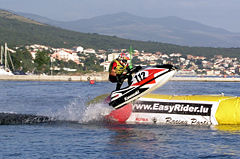 There are two main types of personal watercrafts: stand-up and sit-down models. Stand-up models tend to be small, single person watercrafts. They also tend to be used for aerial tricks, but can pose problems to professional riders who prefer sit down controls. Overall, stand-up models tend to be cheaper than sit-down models.
Sit-down personal watercrafts gained popularity in the 1980s when the U.S. developed an interest in family-friendly water sports. Sit-down models can seat one to two passengers depending on the model. They are less efficient when it comes to fuel consumption, but they are easier to steer than stand-up models. Yamalube 2W oil can be used for both models to keep the gears operating smoothly.