Fuel Efficiency with Yamaha WaveRunners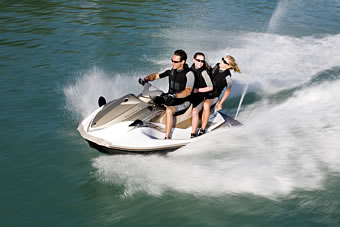 Yamaha is the leading manufacturer of personal watercraft in the world, and has taken great effort to design fuel efficient and clean burning engines. The Yamaha WaveRunner brand of personal watercraft has changed the face of the industry, with newer models capable of saving consumers hundreds of dollars each year in fuel costs compared to competitor models. The WaveRunner offers this kind of fuel efficiency without sacrificing speed due to Yamaha's innovative engine design. Yamaha 2W oil is the company's specially formulated brand of motor oil for use in their WaveRunner personal watercraft; this motor oil combined with WaveRunner engine technology allow for increased fuel efficiency and longevity.
Yamaha designs several different WaveRunner models, with most having higher top speeds than competitor models despite consuming less gallons of gasoline per hour of use. Some WaveRunner models also offer performance level quality and run on regular unleaded gasoline.