Brief History of the Yamaha WaveRunner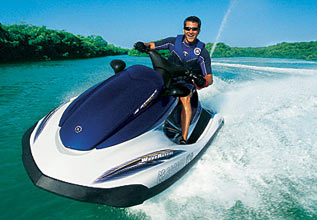 Yamaha's first personal watercraft, the WaveRunner, started to appear in retail stores in 1986, with the invention of the Yamaha WaveRunner 500. Yamaha broke into the personal watercraft market after Kawasaki's Jet Ski and Bombardier's Sea-Doo had started to see a spike in sales. Despite the names Jet Ski and Sea-Doo being brand specific names for personal watercraft, the names have now become synonymous with all stand-up (Jet Ski) and sit-down (Sea-Doo) personal watercraft. The WaveRunner marked Yamaha's entry into the lucrative personal watercraft market, and soon the WaveRunner personal watercraft was considered top of the line.
Before 2000, Yamaha had cycled through several different names for their personal watercraft including the WaveJammer, WaveBlaster, and WaveRaider. These names represented specific models of personal watercraft, but as of 2000, all of Yamaha's personal watercraft are named WaveRunner, with a different designation of model attached to the end, for example, the WaveRunner XLT 1200. Yamaha also formulated their Yamalube 2W oil for specific use with their WaveRunner personal watercraft.