Snowmobile Maintenance III: Under the Hood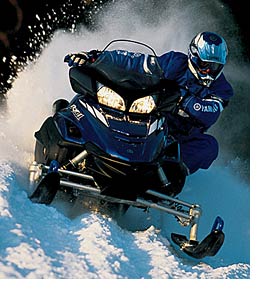 We continue today with part three in an ongoing series dealing with snowmobile maintenance. With winter temperatures already established across many areas of the country, those powdery drifts of snow likely aren't far behind. In order to keep your sled running with reliability and efficiency all season long, it's best to perform a scrupulous preseason tune-up. Let's go under the hood to check the integral inner workings of the sled.
By now you might have noticed a pattern inherent to these visual inspections, and the process of checking the drive belt is no exception: looks for cracks and other blatant signs of wear and tear. A belt is just one of several spare parts that an avid snowmobiler should keep on hand at all times. Next, find your throttle and oil cables, checking to see if they've been damaged in the offseason or have become frayed with use.
Perhaps most importantly, make sure that all fluid levels are correct, including coolant, brake fluid, chaincase oil and 2-cycle Yamaha oil. Checking chaincase oil can be rather tricky depending on the make and model of your sled, so be sure to consult the owner's manual first. Don't just take it for granted that your fluid levels are low and simply need to be topped off. In many cases, there's a reason for dramatically reduced fuel levels – and it might be a costly, mechanical one.