Evinrude's Answer to Four Stroke Engines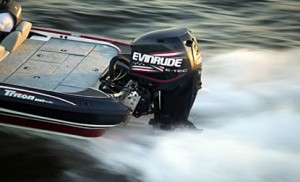 Four stroke engines are known for their easy start, smooth operation, and fuel economy. Two stroke engines, on the other hand, have in the past been scolded for inconsistencies, bad idling, and too much gas consumption. Evinrude decided to tackle the two stroke flaws and created the Evinrude ETEC engine.
The Evinrude ETEC engine is a direct injection two stroke outboard motor. It is able to idle at lower revolutions per minute and is far quieter than its predecessors. Plus, for the first 300 hours of use, the ETEC does not require maintenance. Once you do hit those 300 hours, be sure to change out the oil with XD1 Evinrude ETEC outboard motor oil.