New Johnson Propeller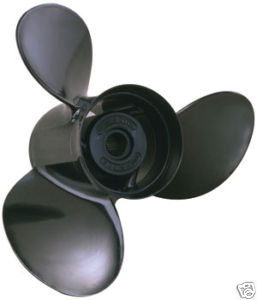 I'm in the market for a new propeller for my Johnson outboard motorboat. Johnson as an independent brand has not existed for many years; they are currently owned by Evinrude. Though Evinrude stopped producing new Johnson models, the company still carries parts for Johnson motorboats.
I've got my eye on an aluminum three blade, standard rotation propeller. The one I'm looking at is die cast with aluminum alloy for greater strength. It has also has baked on corrosion resistant paint. I'll have to do a bit more research before I make my purchase, but I think that between the propeller and some Evinrude Johnson 2 stroke outboard oil my outboard should be up and running in no time.