Top Five Fishing Cities: Seattle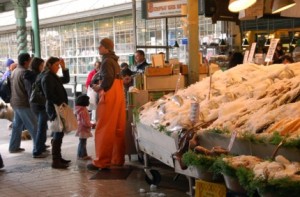 Seattle is also a no-brainer addition to the list. I lived just outside Seattle for a number of years and can verify that locals are spoiled with an abundance of delicious fresh salt and freshwater fish. I used to take out my 2 stroke oil engine motorboat on Puget Sound and catch halibut, flounder, cod, and salmon.
Lake Union is teeming with smallmouths, crappies, and perch. Lake Washington has over 100 species of fish, including sockeye salmon. If you're willing to travel a bit further, steelheads can be caught on the Snohomish, Snoqualmie, Skagit, and Sauk Rivers. A great fishing daytrip to the Yakima River can yield rainbow trout.