Top 10 Cities for Boating Enthusiasts: Seattle, WA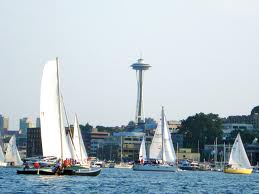 As a maritime enthusiast, I enjoy following boating news to stay attune with the latest and greatest advancements in boating technology as well as various recommendations for amazing marine destinations. Recently, I came across an article in Boating Magazine that spelled out the top 10 US cities to live and boat.
As a city almost completely encompassed by water, Seattle, Washington was at the top of the list. From fresh water to salt water, the Emerald City offers hundreds of miles of fun for boaters to take on new adventures with each voyage into the blue. It's no surprise that boating communities thrive in and around Seattle. The scorecard (scale of 1-5) granted by Boating Magazine read as follows: Waterfront Availability 4; Ease for Boaters 5; Strong Boat-Related Business 5; Number of Good Boating Days 3.
In a city of this many boating pros, I bet many people rely on the quality performance that's ensured by Evinrude XD 100 oil.