2 Stroke Pollution Solution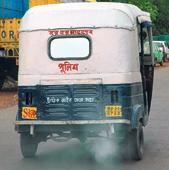 In developing nations, 2 stroke engines are an integral part of transportation for both people and goods. In fact, over most of Asia, three-wheeled auto-rickshaws that utilize 2 stroke engines are some of the most popular means of transportation. However, with auto-rickshaws in excess of 1 million, these small vehicles can cause a significant amount of pollution due to their cheap engine design. While 2 stroke engines are reliable, cheap, and don't require a lot of maintenance, the average 2 stroke engine produces twice or even three times as much pollution as a similar 4 stroke engine. The reason for this is because 2 stroke engines burn a mixture of gasoline and 2 stroke oil that is common to most if not all 2 stroke engines. The 2 stroke engine does not have fuel injection, and thus are central contributors to particulate pollution in the air.
However, there are several manufacturers of 2 stroke engines that are innovating and continuing to improve upon the design of 2 stroke engines with the goal of reducing pollution. Manufacturers like Evinrude, the premier designer of outboard motors, have created more efficient 2 stroke engines and also formulated 2 stroke oil to reduce particulate emissions. It is because of these innovations that 2 stroke engines will persevere for some time to come.