Pre-Season Snow Mobile Maintenance: Part Three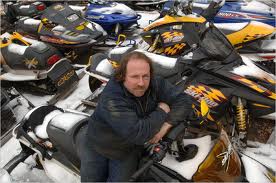 Now that we have the hood open, remove, clean and inspect your spark plugs. Personally, I change my spark plugs at the beginning of each year, as they tend to die out quickly. Nothing is worse than trying to start up your snowmobile miles from civilization only to find that one of your spark plugs is dead. You can find specifications for which plugs to use in your owner's manual.
The starter rope also requires attention, as it has a tendency to fray and wear. Even if the rope looks like it's in good condition, it's still a smart idea to bring an extra one along with you on your rides. Replace the battery if you removed it for storage and clean the terminals before making the connection. Tomorrow we'll go over carburetor maintenance and the proper procedure for mixing your Yamaha 2W oil with gasoline.