Putting Away the Snowmobile Oil for the Season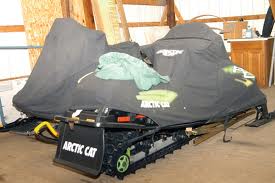 Summer is here, which means that the snow in the mountains has melted and all of the nearby lakes have opened for boat traffic. My brother is making the transition between snowmobiles and WaveRunners now that the season has changed. He has taken out his personal watercraft and gotten it fully ready for the new season. Last weekend, he worked on getting the snowmobile put away.
My brother put his snowmobile and all of the extra snowmobile oil that he bought this year away for the summer. He also got all of his snow gear packed into a large plastic container so that it could be stored as well. My brother is always sad to see the snowmobile put away for the summer, but at least he has days on the lake to occupy him during the warmer seasons.