Boat Trailers and Launching: Part Five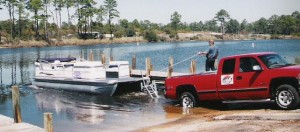 Whenever you are towing your boat, no matter how short the journey, always be sure to bring along a spare tire. In my experience, trailers get flats far more often than cars. Also be sure to bring along a jack that has the capacity to lift your trailer and boat along with your extra outboard motor oil.  Once you successfully get the boat to the launch, the only thing left to do is get her in the water.
If you have never backed up a trailer before, I recommend practicing before you get to the ramp. Be sure to always keep the trailer in your sights and drive slowly while you are backing up. I could spend all of next week writing a series on how to back your trailer, but the fact of the matter is that the only way you learn is by doing it yourself. One tip, however: Don't be afraid to pull forward and start again. It's always easier to launch the boat when you are aligned properly.