Boat Trailers and Launching: Part Three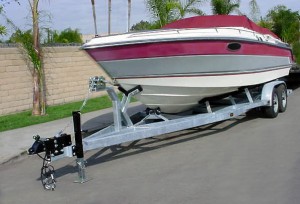 When you purchase your trailer, it is important to remember that they are designed to hold an array of watercrafts. This means that some trailers simply won't be long enough or designed to support your hull properly. Before making a purchase, check will various sources and perform your own measurements to be sure the trailer is a good fit for your hull. It is also crucial to ensure that the tongue on the trailer fits the ball of your hitch. After taking all of the above criteria into consideration, you're ready to go out and make your purchase.
And don't think that once you've bought your trailer that your work is over. Just as you have to refill your Evinrude XD50 oil and perform regular maintenance on your boat, your trailer will need ongoing attention as well. In the next two days we will cover some of the basics of trailer maintenance and upkeep, as well as how to tow and launch your boat safely.