Mixed with Mercury 2 Stroke Oil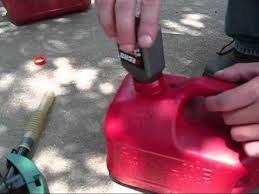 My father has always loved taking his boat out to go fishing. He wakes up really early in the morning so that he can get started. Usually, he makes sure that his boat is completely ready to go the night before, so that he doesn't have to stop anywhere on his way to the boat launch. The last thing he wants to do is waste any time.
The day before he goes fishing, he'll fill his gas tank with fuel and mix in the proper ratio of Mercury 2 stroke oil. When this is done, he loads all of the gear that he will need the next day, into the back of his truck. He doesn't like using live bait, so he doesn't have to worry about getting this before he goes fishing. In the morning, everything is ready to go.