Sport 340 Inflatable Boat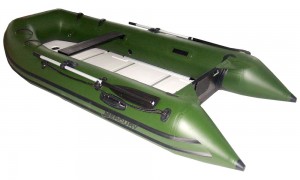 I read another pithy tagline for inflatable boats, this time for the Sport 340 soft bottom inflatable boat. The tagline read, "Capable. Very Capable." It's not quite as catchy as the tagline I mentioned in Monday's post, but it still made me snicker.
The Sport 340 is described as a boat that can go the distance. It can be used as a fishing, cruising, family fun, or ship-to-shore tender boat. The trick is in the design of the boat: It has a lower center of gravity and high-strength floors with seating for up to five people. Throw an outboard on the back, some Mercury outboard oil, and some gasoline and you'll be good to go.