Inflatable Ocean Runner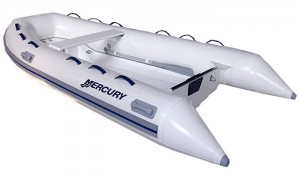 Sometimes when ad men try to be clever it actually works out. I was reading a review for the Ocean Runner inflatable boat and the tagline read, "Nothing dinghy about it!" Sure it's a pretty bad pun, but it's not inaccurate.
The Ocean Runner is an affordable Rigid Inflatable Boat (RIB). The sandwich-laminated fiberglass hull has incredible maneuverability and performance. The deck is non-skid, the bow locker is integrated and securable, and it has a spacious interior for seating the whole family. It can also handle a four-stroke engine, lubricated, of course, by Mercury oil.