Winterizing Your Boat: Part Five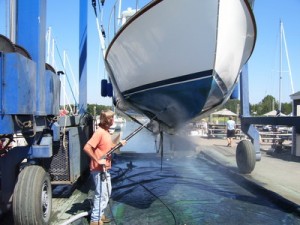 Now that all of the major winterization is out of the way—such as changing the Evinrude XD 100, draining the fuel and lubricating the various systems—it's time to tie up some of the loose ends. Detach all of the battery cables and remove the battery from the boat. You'll want to store the battery in a cool, dry place—probably the same location as the vessel itself. Clean and dry the bilges using soap and hot water. Once this is done, apply some lubricant.
The final step is to clean both the interior and the hull of the vessel thoroughly. Cleaning the interior is fairly self-explanatory, but for the hull you'll want to use a pressure washer to breakthrough all of the caked on deposits and grime. This winterization process probably seems extensive, and it is to a certain extent. However, when next boating season rolls around you'll be glad you put in the extra effort.