Marine Spring Cleaning: Part Two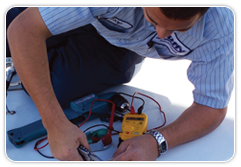 Yesterday we covered the exterior inspection, and now it is time to move on to the more complex aspects of boat maintenance: the engine and electrical systems. Hopefully you charged the battery before you put your boat away in storage, otherwise you may have some trouble getting your watercraft started. Check the water level of the battery and ensure that it will hold a charge. Next, perform a thorough inspection of the gauges and lighting fixtures, as well as verifying that all of the various wires are intact.
Now is also a good time to make sure that you have the proper emergency equipment and extra supplies onboard. Fire extinguishers and first aid kits are a must, as are distress signals and a bailer. Also be sure to keep an extra stock of gasoline and Evinrude XD100 oil at hand for emergencies and incase you come across a stranded boater. We'll conclude our series tomorrow with a review of both inboard and outboard engines.