Marine Spring Cleaning: Part One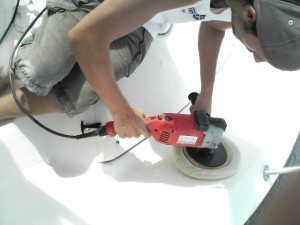 Last week we covered some of the most crucial talking points of boating safety on the water, and this week we'll be going over some of the most important system checks before leaving the dock this season. We'll cover the basics like changing your outboard motor oil as well as tips for basic maintenance procedures that can extend the life of your craft.
Begin by inspecting the hull and applying a coat of wax, which will protect the exterior throughout the season. When going over the hull, don't neglect to check the rub rails, swim platform and the rudder. Also be sure to clean the windows and the metal and wood furnishings. The ground tackle, winches and other miscellaneous fittings and safety equipment should all be examined as well. Now that the exterior is done, tomorrow we will begin to examine the engine and electrical systems.