Changing Lower Unit Oil on Mercury Outboard, Part I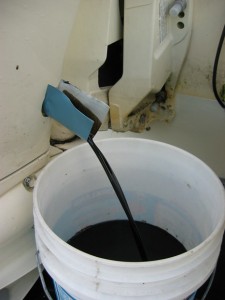 Changing the motor oil in the lower unit of a Mercury outboard is a fairly simple task. All responsible boat owners should, at the very least, know when to change the oil. After all, without the proper Mercury 2 stroke oil, the internal of components of the motor won't work properly which can put you in a real bind if you're out on the water when things go wrong.
To change the oil you will need an oil pan, screwdriver, rags, oil, and a utility knife. Once you have gathered your supplies lower the Mercury outboard to its vertical position. Place the drain pan under the lower unit and then turn the lowest plug counterclockwise with the screwdriver. Place the drain plug aside for the time being. Check back tomorrow for part II!