Picking an Environmentally Friendly Two Cycle Oil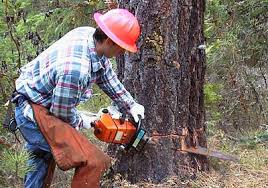 When my dad first bought his chainsaw, he spent the day messing with it to find out how it worked. He read parts of the instruction book to find out how to add gasoline and what to put in the engine. He discovered that two cycle oil had to be mixed with the gasoline so that the engine would continue to run. The first brand that he purchased was not very good.
My father didn't like the way the chainsaw made a black cloud of exhaust whenever he ran it. He went online to find a better way of using it. He discovered that some two cycle oil is more environmentally friendly than others. Some are higher quality to reduce smoke and deposits that they leave in the engines.