The Mercury Trailer Boat at Rest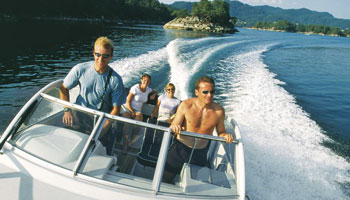 If your Mercury boat takes you into salt water, it is recommended that you park with the outdrive in the down position. This prevents barnacle formation on the bellows; if barnacles form, they can cut into the bellows and ultimately sink the boat. There have been many recent instances in the Midwest where beavers have eaten enough boat bellows to sink the craft and render it useless. If your Mercury outboard is stored in the sun with the outdrive down, it will also alleviate the effects of dry rot on the bellows.
Bellows should not have to be replaced more than once every five or six years, barring formation of a leak or hole. When performing preventative maintenance on the bellows, you may have more success with Mercury parts-they have a bellows kit-the Mercury shop manual, and/or Mercury's Master-certified mechanics. There are special tools, a thread lock and a certain adhesive you will need for bellow replacement. Once all this is done and it's time to go out on the water again, stock up on Mercury engine oil and happy boating!