Have You Winterized Your Boat?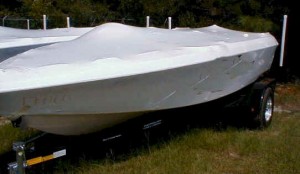 As much as we might hate to admit it, most anglers are faced with an offseason that lasts at least several months. When spring comes around, we can start our love affair with the fishing boat all over again. Until then, it's up to us to winterize and find other ways to pass the time – such as snowmobiling. But before you hop on that sled, let's take some time to ensure that you've done all you can to winterize the boat effectively.
If possible, store your boat on land. This prevents the possibility of water seeping through the hull fittings or gate valves, freezing and expanding. Over the course of an entire winter, this can cause severe harm to the structure and cost you lots of money. Add anti-freeze to parts of the boat that are intended to contain water such as water tanks, septic holding tanks and toilets.
Drain the boat's cooling system and add anti-freeze. Do so dipping the water intake into a bucket of anti-freeze and running the engine for a few minutes. The battery should be disconnected and stored on land. Drain the existing motor oil and replace it with Mercury engine oil. Drain and replace the transmission and outdrive oils and top off the tanks with a fuel stabilizer.