Winterizing Your Boat Trailer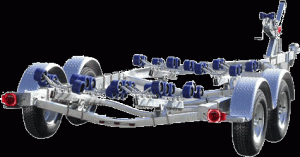 Just as we take precautions to winterize our boat by changing the mercury oil, using a gasoline treatment to clean the tank, and greasing the propeller, it's also important to winterize your boat trailer. The first step you should take is to prevent the buildup of rust, especially if your trailer and boat are stored outside. For rust protection, you'll want to coat your trailer at least once every few years with rust prevention paint. It's also important to re-grease the wheels on your trailer to avoid them from freezing and becoming immovable over the winter. If possible, drape your boat cover over the boat trailer as well, as preventing water runoff will help to maintain its condition.
With the proper precautions, you'll be ready and rearing to go once the weather grows warmer; you'll be out on the lake or the ocean before everyone else!