Pulling a Water Skier: Part One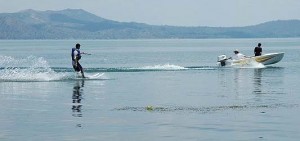 Boats are certainly fun to drive and it's enjoyable to spend a day anchored in the middle of a serene lake, but one of the main reasons most people invest in a boat is water sports. And while towing an innertube is a cinch, getting a skier up—especially a novice—can be difficult. The boat driver has a crucial impact on the enjoyment and the safety of the skier, so before you put someone behind your boat, be sure you know what you're doing.
When the skier is in the water, have the engine cut and someone else on board displaying your safety flag, which should always be kept with your extra gasoline and Evinrude XD 100. Once the skier has the handles of the towrope and is comfortable in the water, clear the rope from the propeller and start the engine. Slowly move away from the boater until all of the slack has been removed from the towrope. Tomorrow we'll go over how to get them up.