Life Jackets and Yamalube 2m in My Dad's Shed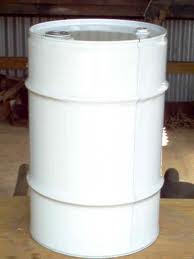 The last time that I went out on a boat, I went along with my father, because I have had my boat in the shop for some minor boating repairs. He wanted me to show up at his house the night before we were to go out on his boat, because he wanted to get an early start as usual. I bought my fishing and boating gear with me, but left it in the car overnight.
Early in the morning, my father sent me out to the shed to get out the life jackets, which he said were located behind the Yamalube 2m. I had forgotten that he bought all of his boat oil in bulk, so I was a little bit surprised when I found out that the life jackets were behind a rather large oil drum in the shed. I had to edge around the drum to get into the tight space behind it where the life jackets were located.