Keep your engine clean with yamalube ring free plus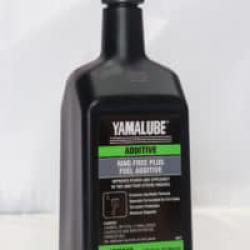 A clean engine can make it easier to conduct repairs or maintenance. If it's been a long time since you cleaned your engine, it may take a bit of time to allow the degreaser to soak through the grime, and a bit of elbow grease to brush off deposits of oil. Cleaning the engine regularly will prevent rust from developing. Road grime and salt are the biggest culprits in developing rust, so rinsing the engine bay will prolong its journey. With that being said why not use yamalube ring free plus to help in the cleaning process.
This effective exclusive protective fuel formula will provide superior deposit control, cleaning fuel injectors, carburetors, intake valves, intake ports, and combustion chambers. With regular use, it prevents the carbon naturally produced in your engine from sticking to internal components.
The yamalube ring free plus cleans carbon and varnish from piston rings, piston crowns, and combustion chambers, as well as exhaust and intake manifolds.
Keep your engines running smoothly even when your fuel source isn't top quality by using Yamalube Ring-Free plus fuel additive. Make sure to use on a continuous basis to provide maximum protection against deposits.