E-TEC Engine: Let's Get Specific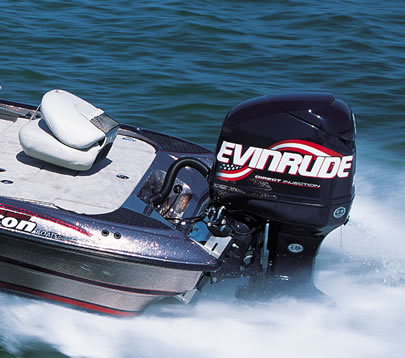 Yesterday we talked generally about the Evinrude E-TEC engine and its environmental benefits over the 2-stroke outboards that came before. Today we'll focus our attention on the inner workings of the E-TEC injector. As most boaters know, air is the enemy of lubrication. Well aware that a well-lubricated engine runs longer and smoother, the makers of the E-TEC designed the engine to recirculate fuel through the injector while also keeping air out.
Obviously, machines that feature fewer moving parts pose a smaller threat of breaking down. Compared to other models, the E-TEC has one-fourth the number of total parts. The oil reservoir marked another crucial improvement. The automatic oiling system feeds a 1.8 liter tan, which stores enough oil to last 40 hours of routine recreational use. It's imperative, however, that the E-TEC is fed a steady diet of Evinrude oil or some other quality TC-W3. Even though these engines boast a large fuel tank and a recirculation system, that's no excuse to skimp on all-important lubrication.