Winterizing an Inboard/Outboard Motor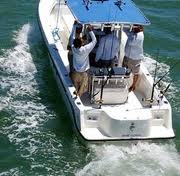 Unless you live in Miami, you need to winterize your inboard/outboard motor. It's already December, so chances are if you haven't already scheduled an appointment at the marina, you'll need to do the job yourself. Removing the water from the engine is a fairly simple task that you should be able to complete on your own.
Start by lowering the engine into the down position and then allow the water in the unit to drain away. Next, remove the drain plugs so the water can drain into the bilge. Newer drain plugs are made of plastic and can easily be turned by hand. Once the draining is complete, reattach the plugs, and then drain the bilge. While you're winterizing your machine, make sure that you are stocked up on boat motor oil for next season.