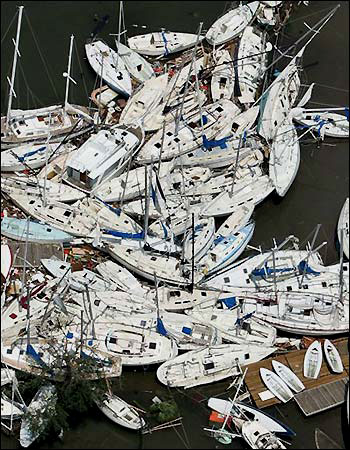 This week marks the beginning of hurricane season. Here are some basic tips to help you out in case you live in a region of the country that is afflicted by these storms:
You are responsible for taking precautionary measures to protect your boat because marine authorities such as the U.S. Coast Guard will not be in a position to offer assistance prior to the storm, and you may be held responsible for damages caused to other persons or property by your boat.
Purchase and stow line specifically for hurricane use. As a general rule, line should be twice the diameter of your normal line.
All boat hurricane preparations should be completed 48 hours before a hurricane arrives. This will allow you to concentrate on your family and home.
Secure all hatches and tape all windows from the inside. Seal all openings with duct tape to make the boat as watertight as possible.
Check the batteries for a full charge and make sure bilge pumps are working.
Shut off all fuel lines and close thru hull fittings.
Remove all electronics and outboard motors to prevent destruction or theft.
Remove any liquids, such as outboard motor oil, to prevent it from spilling out all over your boat.
If you have a boat with a trailer, remove the boat from the water and secure both boat and trailer to high land. If you prefer, remove the boat from the trailer and lash down each separately. Trailer should be firmly anchored to prevent or minimize damage.
Let the air out of tires before tying the trailer down. Place blocks between the frame members and the axle inside each wheel. Secure with heavy lines to fixed objects from four different directions, if possible.
Place your boat in a sheltered area next to a wall, etc. to provide added protection from falling tree limbs and debris.
If you will be anchoring out, do not stay on your boat. Have a designated "hurricane hole." Avoid shoal areas and look for areas with high embankments. Consult responsible marine literature for best anchorage and anchoring methods.