Family Boating Becomes More Popular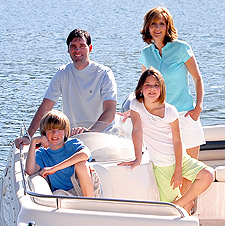 With the high prices of gas and boat motor oil, more and more people are staying relatively close to home to use their boats, even in areas with no apparent recreational boating water near them. New boats retail from $15,000 to $50,000, which is comparable to other similar leisure pursuits. Boating enthusiasts are willing to drive a couple of hours to get to the destination, where they can fish, waterski, wakeboard, inner tube, or just work on a tan.
A family boating trip allows for more togetherness than the average vacation, where all family members might split up to pursue their own activities, such as golf, shop, or go to a movie. Some family boating trips can coincide with a trip to see other family members, or incorporate camping into the trip for a new twist.