Starting a Flooded Johnson Outboard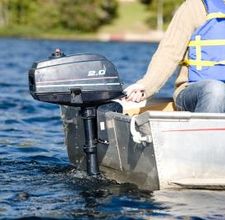 What do you do when your two or four stroke engine is flooded? First off, don't panic. A flooded outboard motor is relatively easy to fix. It just takes a little patience and know-how to get your to turn over.
Begin by pushing the choke to on and then turn the ignition switch. Next, bring the throttle to neutral then gradually to full and open. Pull the choke off, turn the ignition, and then crank the engine. Pull the throttle back to neutral and repeat the cycle until the engine is drained. When you get the chance, take a look at your engine on dry land, and add Johnson outboard oil if necessary.