Mixing Gas and Outboard Motor Oil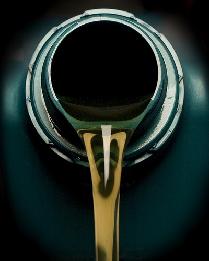 Some people see mixing outboard motor oil and gasoline as a chore, but I actually prefer it. It beats having to change the oil the traditional way twice a year, in my opinion at least. Each two-stroke engine specifies a different fuel to oil ratio, so be sure to consult your owner's manual; when I mix in my Evinrude XD100, I use a 50:1 ratio.
To figure out the proper combination, you first have to convert everything to a common unit of measurement—ounces are the easiest. There are 128 ounces in a gallon. So lets say you are going to prepare 5 gallons of mixed fuel, which is equivalent to 640 ounces. Since I use a 50:1 ratio, I divide 640 by 50 to get 12.8—so I need 12.8 ounces of outboard motor oil.