How to Change Boat Motor Oil: Part One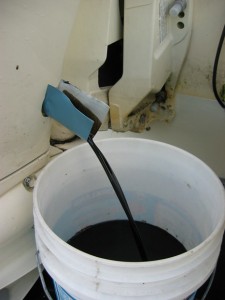 Changing the oil in your boat's engine is virtually guaranteed to be a messy and time-consuming chore, but it is essential to ensure high performance. For most boats, the manufacturer recommends changing the oil every 100 hours, which few boat owners actually do. There are a few different options when it comes to changing your outboard motor oil, and over the next few days, we will go through these processes step-by-step.
The first and most common way to drain your oil is through the drain plug. Start by placing a disposable container—a foil pan works fine—underneath the engine to catch the used oil. If you have limited space, you can attach a hose to the drain plug and transfer the oil into any container of your choosing. The main downfall to utilizing the drain plug is that it is often difficult to access and space to catch the oil may be limited.