2 Stroke Oil at a Car Parts Store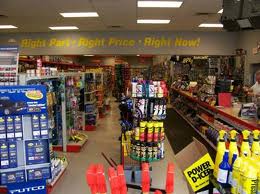 I don't often visit stores that sell various car parts. A week ago I had to stop into one, because I had to replace a headlight bulb. I wasn't about to try driving to work on dark mornings with only one headlight working. I was quickly able to find the light that I needed. I decided that I should look at the motor oil while I was there.
I was surprised that in addition to a lot of different types of car motor oil they also had a wide variety of 2 stroke oil types. Of course this type of oil isn't for cars, so finding it at an auto parts store seemed very strange to me. Also, they weren't "name brand" oils. I suppose that an auto parts store would be a logical place to look if I wanted it for my car, but I'm not certain about looking there to get oil for a boat.